Editor's Note: Java Robinson, NBCT, teaches second grade in Montgomery County, Md. She supports her colleagues in pursuing and achieving Board certification as a coach, recruitment coordinator and candidate support provider. She is also a Teach Ambassador, working to recruit minority candidates into the teaching profession. The views expressed in this blog are her own.
I was born by the river in a little tent
Oh and just like the river I've been running ev'r since
It's been a long time, a long time coming
But I know a change gonna come, oh yes it will
Sam Cooke wrote these lyrics in 1963 after being turned away from a "whites only" motel in Shreveport, Louisiana. Unfortunately, we are still discussing the issues of hate and discrimination today. The recent violence perpetuated by the police against unarmed black men in Baltimore, South Carolina, Ferguson, and beyond, has led to the formation of the Black Lives Matter Movement, and subsequently the Say Her Name Movement.
This summer at the National Education Association (NEA) Human and Civil Rights (HCR) Joint Conference on Concerns of Minorities and Women in Orlando, Florida, the issue of racism and discrimination were discussed. This was a call for all educators and education leaders to get involved in addressing this topic to meet the needs of our students. Now that we have started a new school year, are we ready to heed that call?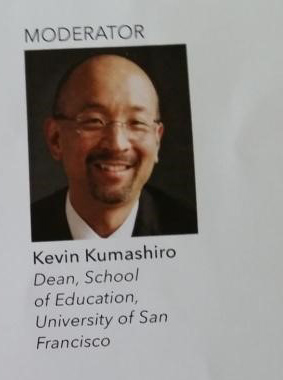 Guest speaker and panel moderator, Kevin Kumashiro, helped us to explore the roots of race and racism in our society. He argued that too often in this country we deny racism. Saying we are color blind, or that the issue is not racism but rather a different "ism"(sexism, classism, etc.)  is in effect a denial of the issue and a perpetuation of the problem. Dr. Kumashiro then went on to lead a group of panelists, all university professors, in an eye-opening and inspiring discussion on these issues.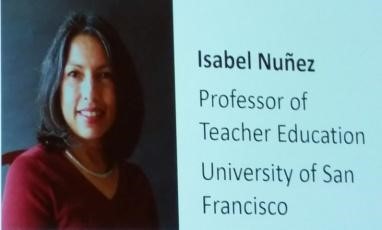 Our first panel member, Isabel Nunez reminded us that "if we are neutral in times of injustice, we have chosen the side of the oppressor." Nunez acknowledges that racism is painful to confront for everyone; however, this does not excuse us from tackling this topic.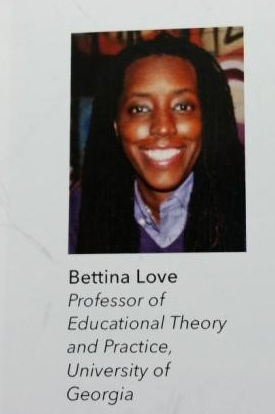 Our second panel member, Bettina Love, asked us to think about the newly hired teachers of today, coming in with twelve years of No Child Left Behind (NCLB) doctrine in their educational background. The first time these teachers saw a person of color in textbooks, she said, it was as a slave. She argued that we have to change the narrative of education not just for our students but also for our teachers. When thinking about racism we have to back up and think about white supremacy and white privilege first. In order to counteract white supremacy, we have to involve ourselves in grassroots activities to change the curriculum and create new stories of resistance for our children. This would involve activities like putting the stories of Michael Brown, Eric Garner, and Bree Newsome in our textbooks.
I go to the movie and I go downtown somebody keep telling me don't hang around
It's been a long, a long time coming
But I know a change gonna come, oh yes it will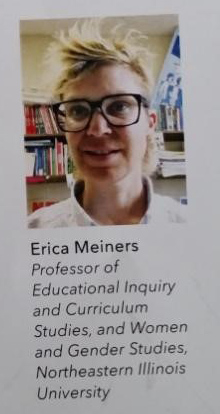 Our third panelist, Erica Meiners, cautioned us on the dangers of allowing the media to diagnose problems and propose solutions for us. The media is good at perpetuating the fables that racism in our justice system is the fault of a few bad cops, and hate crimes are attributable to a few mentally unstable individuals. They end up clouding the issue, which we all know is much more systematic than that. Meiners believes that we should think about or condemn white supremacy as a structural system. Right now, many people in society prefer to ignore the issue of racism, staying polite and "professional" as another way of evading the conflict.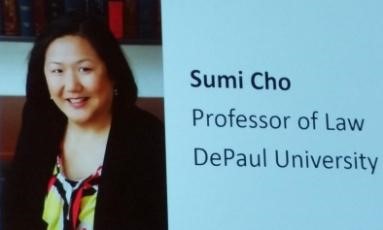 Our last panelist, Sumi Cho, noted that our democratic values include public education for all.  However, legislatures have used education to reproduce racial injustice and inequality through "school choice" (voucher system and charter schools) which emerged at the same time as increased integration of schools. These two approaches do nothing to solve the problem of racism but instead add to it by causing a shift from nation state to market state.
There been times that I thought I couldn't last for long
But now I think I'm able to carry on
It's been a long, a long time coming
But I know a change gonna come, oh yes it will
Sam Cooke was not wrong when he said a change is gonna come.  What many of us want to know is when it will come. As Bettina Love and the other panelists remind us, teachers are in a unique position to enact that change through grassroots activities, and by fighting racism in our classrooms. So, NBCTs, let's work together to enact that change.