The National Board Networks™ work in tandem with the National Board to build accomplished teaching across the nation. The networks work to identify opportunities to broaden the influence of National Board Certified Teachers and expand their influence to reform education.
The Networks offers a range of programs and activities developed to suit local needs. Additionally, they facilitate ongoing communication between the National Board, NBCTs and other teacher leaders in the field. Below is a list of networks, websites, and contact details.
National Board Networks have grown organically out of local needs to support educators. Networks champion the work of the National Board and mobilize NBCTs to build accomplished teaching across the nation. Networks provide opportunities for NBCTs to broaden their influence and opens doors to teacher leadership.
There are 75 Networks across 39 states. About a third of National Board Networks are associated with an education association or organization, 50% are statewide networks, 50% are district or regional networks, and there are three nationwide networks.
Activities of the Networks
The Network offers a range of programs and activities.
Activities may include:
Pre-candidacy sessions
Awareness sessions for Board-certification
Candidate recruitment and support
Advocacy and policy training
Leading Hill Day in their state
Professional learning for teacher leaders
Celebrating new/renewed NBCTs
Leading conferences for local NBCTs and interested teachers and policy makers
Get involved or start a network
Do you want to step forward as a teacher leader, help others grow through the National Board Certification process and expand your advocacy in education?
Join a National Board Network as a member or as a part of their leadership team.
Networks and contact information are listed below and on each state's page
If you want to start a network in your state, region or district, reach out to Laura Benedetto.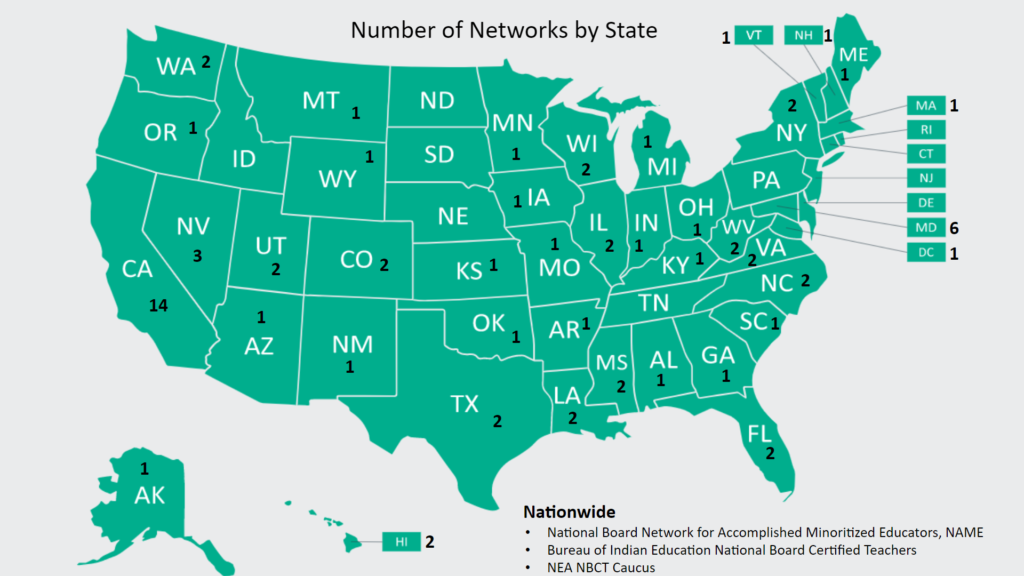 State:
Region Covered
National Board Network
Contact Info
Twitter
AK
State of Alaska
Alaska NBCT Network
Tara Bivins
AL
State of Alabama
Alabama NBCT Network
Ashli Polizos
@alnbctnetwork
All
All 50 states: NAME is a nationwide, virtual network affiliate.
National Board Network of Accomplished Minoritized Teachers (NAME)
Dr. Tonia Holmes-Sutton
@nbctname
All
All 50 states
Bureau of Indian Education NBCT Network
Tan-A Hoffman
@bienbct
All
Austin School District
Center for Teaching Quality, Inc.
email
All
California
NEA NBCT Caucus
email
@NEANBCTCaucus
AR
State of Arkansas
Arkansas Teachers for National Board Certification (ATNBC)
Tammy Gilmore
@ATNBCnetwork
AZ
State of Arizona
Arizona NBCT Network
Dr. Kathy Wiebke
@aznbct
CA
Orange County
Orange County NBCT Network
email
CA
The Greater Los Angeles Area, the Inland Empire, Kern, Santa Barbara and Ventura Counties
UCLA NBPTS Project
Erin Powers
@UCLANBPTS
CA
Folsom Cordova Unified School District (Rancho Cordova, Folsom, and Mather)
Folsom Cordova USD National Board Network
Sarah Kirby-Gonzalez
CA
In person-Northern California, Online-the world
National Board Resource Center, Stanford University
Linda Bauld
@lbauld
CA
Lodi Unified School District, Lodi and surrounding are of San Joaquin and Sacramento Valley, California
Lodi NBCT Network
Lori Celiz
CA
Fresno Unified School District
Fresno Support Network (formerly listed as Fresno Unified National Board Certification Candidate Support Program)
Tiffany Castillo
CA
SFUSD
San Francisco Unified National Board Network
email
@SFUSDNBsupport
CA
Long Beach School District
Long Beach Unified School District
email
CA
California
California Teachers Association
email
@WeAreCTA
CA
San Diego County Districts, San Bernardino School Districts, and Imperial Valley County School District
California Partnership for Accomplished Teaching
email
@So_CalPAT
CA
Los Angeles Unified School District & the Greater Los Angeles Area
The Support Network
email
@TSN4NBC
CA
West Contra Costa Unified School District, (Richmond, El Cerrito, Kensington, El Sobrante, Pinole, Hercules, San Pablo CA)
National Board in West Contra Costa
email
CA
Cal State Fullerton NB Network
email
CA
Buena Park USD
email
CA
Oakland East Bay, CA
East Bay National Board Certification Network
email
CA
California
California National Board Collaborative
email
@NBCaliStrong
CO
State of Colorado
Colorado Education Association NBCTs
email
CO
State of Colorado
Colorado National Board Network
Phyliss Robinette
CT
Connecticut
Connecticut Department of Education
email
CT
Connecticut
Connecticut Education Association
email
DE
Delaware
Delaware State Education Association
email
DC
District of Columbia
DC Office of the State Superintendent of Education
email
FL
Miami Dade County, Florida
National Board Certified Teachers of Miami-Dade, Inc
Judith Grey
@nbctsofmd
FL
Based in Hillsborough County, FL (Tampa Bay)–Bylaws allow for members throughout Florida (and beyond)
Hillsborough National Board Certified Teachers Network (formerly Hillsborough County Council of National Board Certified Teachers)
N. Sabrina Gates-McCarthy
@HNBCT
GA
State of Georgia
Georgia Teacher Leader Consortium
email
@GANBCTnet
HI
Kamehameha Schools NBCT Network
email
HI
State of Hawaii
Hawaii NBCTs (formerly listed as HSTA NBCTs)
Tracey Idica
@808nbcts
ID
State of Idaho
Certification/Professional Standards
email
IA
State of Iowa
Iowa NBCT Network
Colleen Heinz
IL
Chicago Public Schools, District 299
Chicago NBCT Network
Gloria Henllan-Jones
IL
Illinois
National Board Resource Center at IL State University
Jennifer Smith
@NBRCIllinois
IN
State of Indiana
Indiana NBCT Network
email
KS
State of Kansas
National Board Certified Teachers of Kansas
email
KY
State of Kentucky
Kentucky National Board Certified Teacher Network
email
@KYNBCTNetwork
KY
Western Kentucky University
email
LA
State of Louisiana
Louisiana NBCT Network
Dr. Dolores Cormier-Zenon, NBCT
@LouisianaNBCT
MA
MA National Board Network (MA NBN) – Boston Chapter
email
MA
Boston
Massachusetts Teachers Association NBCT
email
MD
Howard County, Maryland
Howard County Public Schools National Board Certification Network
Jennifer Hlavka
MD
Prince George's County, Maryland
Prince George's County NBCT Network (formerly Prince Georges County National Board Network)
Rainya Miller
@pgcpsnbct1
MD
Montgomery County, Maryland
NBCTs of Montgomery County, MD (formerly Montgomery County National Board Network)
Java Robinson
MD
Washington D. C.
DC NBCT Network
email
MD
Anne Arundel County Public Schools, Central Maryland
MD NBCT NETWORK-AACPS
Angie Reisler
MD
Western Maryland
Western Maryland NBCT Coalition
Sandy Coluzzi
ME
Maine
NBCTs of Maine
Melissa Guerrette
@nbctsofmaine
MI
Michigan
Michigan National Board Certified Teachers Network
Shantel VanderGalien
@minbct
MN
Minnesota
Minnesota NBCT Network
Keith Steadland

Jodi Hansen
MO
Missouri
Missouri NEA NBCT Network
Ann Jarrett
MS
World Class Teaching Program
Jackson State University
email
MS
World Class Teaching Program
Mississippi State University
email
MS
World Class Teaching Program
Delta State University
email
MS
World Class Teaching Program
University of Southern Mississippi
email
MS
World Class Teaching Program
University of Mississippi
email
MS
Mississippi Association of Educators
email
MS
DeSoto County NBCT Network
email
MS
Mississippi
Mississippi NBCT Network
email
MT
Montana
MFPE NBCT Network (formerly MEA-MFT NBCT Network)
email
NC
NC, divided into 9 NCAE regions
North Carolina Association of Educators (NCAE) NBCT Network
Debra Troxell
@NCAENBCTCaucus
NC
Region 7A, Eastern North Carolina
Eastern North Carolina Network of NBCTs and Friends
Christine Hodges
ND
North Dakota
ND United
email
NE
Nebraska
Nebraska State Education Association
email
NH
New Hampshire
Southern New Hampshire University NBCT Network
email
NJ
New Jersey
Advocates for Candidates & Educators (ACE) of NJ NBCTs
email
NM
State of New Mexico
New Mexico National Board Teacher Network
Evelyn Sanchez
@NMNBCT_Network
NV
Clark County Nevada
Clark County National Board Network
Elizabeth Cambell
@CCEANBPDP
NV
State of Nevada
Nevada National Board Professional Learning Network
Susan "Ernie" Rambo
@NVNationalBoard
NV
Orange County
Nevada State Education Association
email
NY
New York
National Board Council of New York (NBCNY)
Annette Romano
@NBC__NY
NY
Long Island, NY
Long Island National Board Network
email
OH
Ohio
Ohio Coalition Board Certified Teachers
email
OK
Oklahoma
National Board Oklahoma Network
Jennifer Gambrell
OR
Oregon
Oregon NBCT Network
Michele Oakes
@NBCOregon
PA
Pennsylvania
East Stroudsburg University
email
PA
Pennsylvania
Temple University
email
RI
Rhode Island
Rhode Island Department of Education
email
SC
South Carolina
South Carolina National Board Network (SCNBN)
Suzanne Coty, NBCT
@scnbctnetwork
SD
South Dakota
South Dakota Education Association
email
SD
South Dakota
South Dakota Department of Education
email
TN
Tennessee
Tennessee Department of Education
email
TN
Tennessee
Tennessee Education Association
email
TX
Texas
Austin ISD National Board Certification Program
email
TX
Texas
Corpus Christi ISD
email
TX
Texas
Dallas ISD
email
TX
Texas
Humble ISD
email
TX
Texas
IDEA Public Schools
email
TX
Texas Statewide Network
Texas National Board Coalition for Teaching (TxNBCT)
Dr. Doretha Allen
@TexasNBCT
TX
Texas
Texas Public Charter Schools Association
email
TX
Alumni of the University of Dallas, TX
UD NBCTs: University of Dallas Alumni NBCT Network
Jennifer Smithers Marten
UT
Utah
Utah National Board Coalition
Tami Clevenger
@UtahNBCTs
UT
Salt Lake City School District, but we collaborate with the Utah National Board Coalition (UNBC)
Salt Lake City School District National Board Network Affiliate (formerly Salt Lake City School District National Board Network)
Dessie Olson
VA
State of Virginia
Virginia (VA) NBCT Network
Sarah Payne
@vanbct
VA
State of Virginia
Virginia Education Association for National Board Certification  
Melinda Bright 
@VEA4Kids
VA
Virginia Dept. of Ed. Region 2
Southeastern Virginia (SEVA) NBCT Regional Network
Dr. Karen Nelson
@SEVANBCT
VT
State of Vermont
Vermont-NEA NBCT Network (formerly Vermont NBCT Network)
email
@VTNBCT
WA
State of Washington
Washington State National Board Network Partners
Cindy Rockholt
@WEANBCTs
WA
Clover Park School District, WA
Clover Park National Board Network
Jan Lonsway
WI
State of Wisconsin
Wisconsin National Board Network
Jodi Miller
@WNBN
WI
State of Wisconsin
Department of Public Instruction
email
WI
State of Wisconsin
Wisconsin Education Association Council
email
WV
West Virginia
Southern West Virginia NBCT Cohort
email
WV
West Virginia
West Virginia Department of Education NB Support Network
Dr. Bridget Phillips
WY
State of Wyoming
Wyoming National Board Certification Initiative
email