A version of old professional development joke goes something like this:
A man dies and goes to heaven. Passing the pearly gates, he notices that there are plenty of folks from all professions and walks of life standing around, but no teachers.
"Where are all the teachers?" he inquires of God.
"Oh, they're in professional development," God replies. "In hell."
I used to tell various iterations of that joke to teachers when I was an instructional resource teacher in my district's Office of Staff Development. (This version is from Edweek.) The fact that we had to acknowledge these expectations and perceptions of teacher inservices says a lot about the traditional role of professional development.
Simply put, many teachers do not find value in their mandated professional development. Ultimately, the challenge is about power and top down organizational management. Staff development is often done to teachers, instead of with them. Given the choice, teachers would rather learn from each other to make learning more relevant, meaningful, and applicable. This disconnect between what teachers want versus what is imposed is embedded in our shared experiences and professional culture.
Moving from Compliance to Agency: What Teachers Need to Make Professional Learning Work, a new report from Learning Forward and National Commission on Teaching and America's Future, describes these challenges and provides recommendations to break this unproductive tradition. The report highlights:
Teacher agency is the capacity of teachers to act purposefully and constructively to direct their professional growth and contribute to the growth of their colleagues.

Education leaders must recognize the importance of teacher agency so they can transform professional development to support teacher learning.

The degree to which a teacher acts with agency in professional learning depends on both a teacher's internal traits and a school's structural conditions for professional learning.
NBCTs have Agency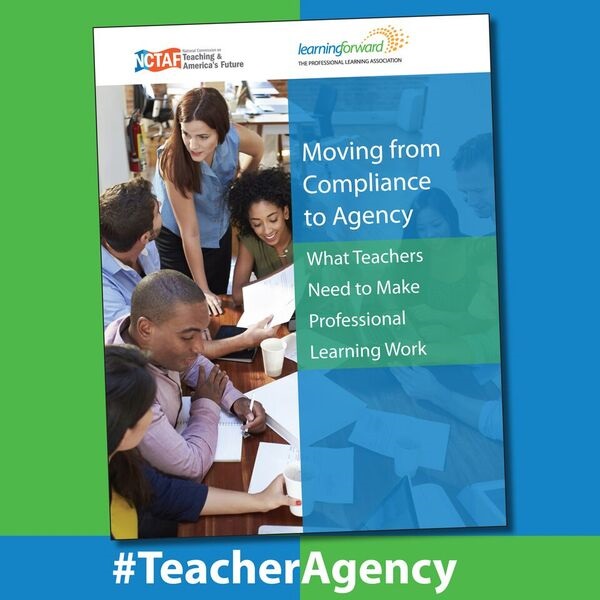 National Board Certified Teachers (NBCTs) represent one group of teachers that have this teacher agency. Through the National Board Certification process, we voluntarily analyzed our classroom practice against high standards. We leveraged our knowledge of content and pedagogy to meet specific student needs. Through ongoing reflection, we expanded our successes and targeted our shortcomings.
NBCTs contribute to the growth of colleagues. We are leaders in this transformation to build teacher capacity and systemic structures for transforming professional learning. According to the 2014 NBCT Survey, more than half of NBCTs are teacher leaders at the school, district, state, and national levels, leading Common Core State Standards (CCSS) implementation, STEM initiatives and programs, peer review and observations, data literacy, personalized learning, technology integration, and professional development.
Indeed, NBCTs have the "internal traits" to purposefully and constructively direct personal and professional growth.
As district and school leaders look for teacher leaders to transform professional development, NBCTs are, and have been, leading the way.
Breaking the Barriers to Improve Professional Learning and the Teaching Profession
Tragically, not all NBCTs are in schools or systems where their talents are utilized. Some NBCTs struggle to break the systemic barriers that restrain expression of teacher expertise. As some NBCTs have said, "We are all dressed up and nowhere to go." Agency, by itself, is sometimes not enough for education leaders to recognize the potential of the teacher agency in NBCTs to solve the school's professional development problems.
Fortunately, many NBCTs, such as Chris Poulos, whose story is featured in the report, create their own pathway where none existed. Other NBCTs organize organically through NBCT Networks. They find like-minded professionals who share the same interest and dedication. They meet regularly to create their own spaces to express their learning and leadership.
Other educators learn, collaborate, and organize online. Through online professional networks such as the Center for Teaching Quality's Collabatory and Mighty Bell's TeachLearnLead, educators share ideas, resources, and expand their knowledge. Many teachers develop their own Professional Learning Networks to expand their circle of colleagues. Others organize through teacher groups that directly influence education policy. As examples of teacher-led schools and other ideas of school redesign gain more attention, teachers have created more opportunities to disrupt the top-down structure that has limited improvements to professional learning and other important teacher and school issues.
Critical Questions Moving Forward
NBCTs and other educators have the type of teacher agency this report highlights. They work collaboratively with education leaders in systems where this agency is nurtured. They strive to break the barriers in systems where their agency is under utilized. And most importantly, teachers will create their own opportunities where none exist.
What are your thoughts on teacher agency after reading this report? How have you expressed your teacher agency?
How did your school or district support your leadership? Or, what do you do to you create your own professional learning opportunities?
Post your comments on #TeacherAgency