When educators take back education legislation
Every Student Succeeds Act. The name leads us to wish for a world in which every student experiences a classroom designed specifically to help them overcome every obstacle that they've been dealt.
As professional educators, we don't want to be jaded, but it sounds a bit "Hollywood." Think of those movies that depict the difficulties of being a teacher, but then the ending ties everything up in a beautiful red bow. Every student succeeding sounds a bit like every student being "above average" – mathematically impossible!
And a new piece of legislation? Don't teachers feel like this work has been "done to us" over the years? Watch TV shows like "Scandal" or "House of Cards" and you'll see education bills being used as political fodder. Jaded teachers might feel that this is one more legislative act that we just have to wait out, but I think there's reason for optimism this time.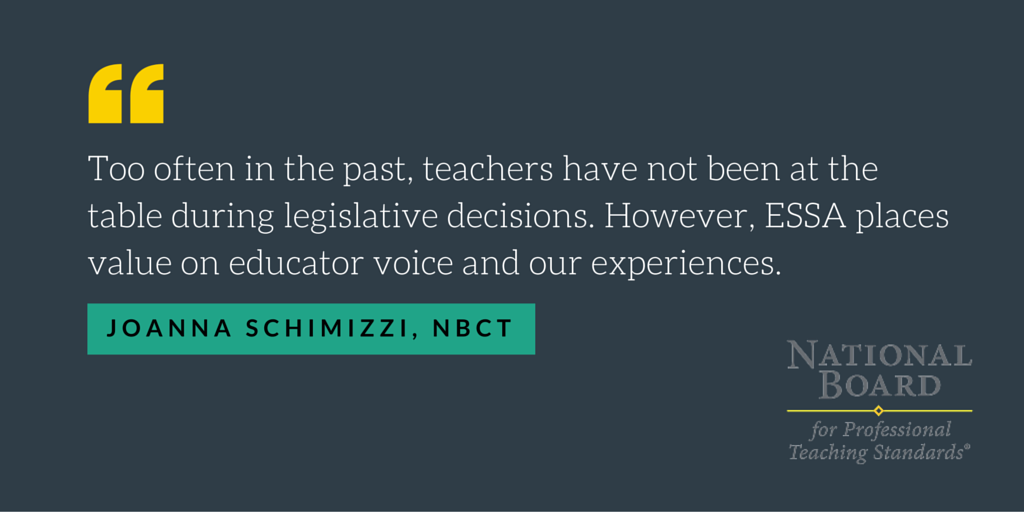 One of the most reassuring aspects of this new legislation is that ESSA acknowledges the difficult and complex work of education. Goodbye to the days of students and schools being judged by single test scores. ESSA now provides opportunities for states and schools to be thoughtful, creative and evidence-based as we search for solutions to truly support Every Student.
At the recent Teaching & Learning Conference, I heard Christopher Cross describe all of the external factors that have influenced education legislation. The exciting part about ESSA is that this law opens the door for states to seek and use more educator input in the legislative process.
Too often in the past, teachers have not been at the table during legislative decisions. However, ESSA places value on educator voice and our experiences. Jonathan Gillentine, NBCT and pre-K educator in Hawaii, says, "Teachers must speak up about how we can move forward to help children find and understand the meaning of what they are learning." We know the effects (both positive and negative) that legislation can have on student learning. Now is the time for educators to take the opportunity to have our voices heard.
Our recently appointed Secretary of Education, John King, spoke at the Teaching and Learning Conference about four important ideas that should be addressed during ESSA implementation:
Broaden the definition of student success beyond achievement on tests.
Redefine interventions that help struggling students succeed.
Change the narrative around what defines an effective teacher.
Bring equity issues to the center to the discussion.
If these sort of topics inspire you, what are the chances for you to get involved? Below are three ways that you, as an educator, can contribute your valuable experiences and expertise to ESSA's implementation.
Negotiated Rulemaking
This is the process through which the US Department of Education will develop proposed regulations used to implement ESSA at the state level. I recently spoke with Christopher Toppings, Legislative Aide to my US Senator, Richard Burr. Mr. Toppings was kind enough to answer some of my questions about how they viewed ESSA and what the next steps would look like. The legislative process is unfamiliar to many teachers, but reach out to your elected officials and you might find they can be generous with their time and support.
Following my own research, I find it helpful to compare this process to stagecraft. The ESSA law determines which characters will be on stage. The negotiated rulemaking process provides more setting and theme support. And the states are going to actually determine the dialogue and presentation that affects the art of teaching.
During the negotiated rulemaking, a committee (already chosen) will discuss topics such as assessments and the key principle that Title I funds are intended to "supplement not supplant" state funding in schools. As they make recommendations, there will be a period for public comment. You might be able to make a connection with someone on the Rulemaking committee, like I did. The members of this committee are dedicated to this process and willing to speak about the process. Also, negotiations will actually be open to the public and you can sign up to speak during these sessions. A third option is to sign up for updates from the US Dept of Ed and have your voice heard during the call for public comment.
State level decisions
State lawmakers will now be responsible for many more of the decisions that revolve around how to ensure all students are receiving a high quality education. EdWeek has a series of articles that explains all the roles states now have in ESSA. One of these roles is identifying schools that perform in the bottom 5%, using their own accountability measures. States will determine their own accountability measures – both academic and non-academic. Contact appropriate education leaders in your state. State Superintendent June Atkinson, from my home state of North Carolina, replied directly to my inquiries, saying, "We also want to involve teachers throughout the process beginning with some public hearings for which we want many, many teachers to attend. Watch for an email that I send to all teachers. I am also interested in any of your ideas about how to get teacher involvement." Hopefully, your state superintendent will be as easy to communicate with as mine!
District level decisions
Districts that oversee a school identified as poorly performing now have the freedom to make an "evidence-based plan" and use funding more freely to make changes. Your voice as an educator is essential here, as this is the most direct application of your experiences in classrooms in that district. You might reach out to your School Board or district but keep in mind that those decisions are going to be made after the negotiated rulemaking.
If all of this sounds a bit vague, overwhelming or complex, that's about right! This work with ESSA is a novel approach to giving control back to local areas. For better or for worse, this work is definitely complex. A different kind of complex than what we're used to… like teaching the process of mitosis, the Federalist Papers or the Pythagorean theorem to 35 students at a time.
Cama Charlet is an Education Facilitator at The Buffett Early Childhood Institute, and she notes that teachers often feel they don't have a voice in their state. "We have traditionally used our local or state associations or unions to represent us; ESSA proves that teacher experience in the classroom is a valued voice. This level of engagement from teachers on the design and implementation of legislation will be a new type of work for many teachers and many states."
This work is not just important to states, but ultimately to the future of our students. So, take the advice of Dr. Michelle Stephan – professor at the University of North Carolina at Charlotte. "Advocacy can be as simple as attending the annual Moral March in Raleigh or writing a letter to your state representatives concerning the lack of emphasis on supporting students in high poverty communities."
Our legislators have recognized that educator voice is important for making decisions about how to best support all students – and teachers! So, let's be sure to lead the change, to ensure that this opportunity doesn't become another episode on a TV series where educator voice is a token. This time, educator voice should be the driving force. I know I'm planning to be at the public comment session in my area on April 26. Find out when there's a session close to you, and be there to speak out.