How do you overcome learning barriers in your classroom? What steps have you taken to address the needs of all learners? How are you able to keep your students engaged in their learning? These are the questions accomplished teachers frequently ask themselves. Universal Design for Learning (UDL) not only helps teachers answer these questions but also provides guidelines and strategies they can use to solve these problems.
UDL is a set of three principles that helps teachers develop curriculum that gives all students equal opportunities to learn. We cannot continue with a single, one-size-fits-all approach for education. Many times we run into the problem of trying to fit a square peg into a round hole with no way of correcting the problem. UDL provides a solution by giving accomplished teachers a blueprint for creating instructional goals, methods, materials, and assessments that work for all learners. It is a flexible approach to teaching that can be customized and adjusted to meet the individual needs of all learners. There are three main principles driving UDL practices, and they depend on student input and voice at each stage. As a second grade teacher, I integrate these three principles into my teaching practice in order to enable student success.
Principle I: Provide Multiple Means of Representation (the "what" of learning)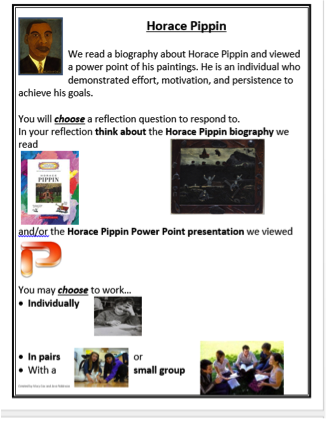 All learners differ in the ways they perceive and comprehend information that is presented to them. Students with sensory or learning disabilities, linguistic or cultural differences may all benefit from different ways of approaching content. Some students may simply grasp information quicker or more efficiently through visual or auditory means rather than printed text. Therefore, in my classroom, key vocabulary is supported with visual representations. I also create options for students to be able to listen to books being read, learn songs, or even just music. These activities are all done at listening stations which frees up computers to be used for writing or to facilitate student inquiry. These options allow students multiple avenues for accessing material in the curriculum. Sometimes I do want all students to produce the same final product; in those situations, I always offer different tools that students can use to reach the same end point. By providing multiple means of representation, accomplished teachers are able to address the needs of all learners.
Principle II: Provide Multiple Means of Action and Expression (the "how" of learning)
Learners differ in the ways that they can navigate a learning environment and express what they know.  Some may be able to express themselves well in writing but not speech, and vice versa. Action and expression require a great deal of strategy, practice, and organization, and this is another area in which students can differ. Since there is not one type of action or expression that will be optimal for all learners, providing options for action and expression is essential. In writing, I offer options that involve no tech, low tech or high tech approaches, allowing students some choice in how to gather their thoughts, formulate ideas, and move forward with the writing process. Whiteboards are great for a variety of activities for all ages. My students use them to complete math activities, practice penmanship and various other activities. Clicker software is a great writing tool because it provides support when students need it, and it can be used in a variety of ways in the classroom. Other software, Kidspiration or Inspiration (depending on the level), can assist with pre-writing, creating learning materials for visual thinkers, and integrating concepts through mind-mapping. There are a variety of digital graphic organizer templates that are already available within the program. Even with these options available, some students might prefer to write with paper and pencil, and others might prefer to use Microsoft Word or Google Docs. For the students who need other options, creating a poster might work in some cases, along with using arts and crafts, or even creating and performing a short play to demonstrate learning.
Principle III: Provide Multiple Means of Engagement (the "why" of learning)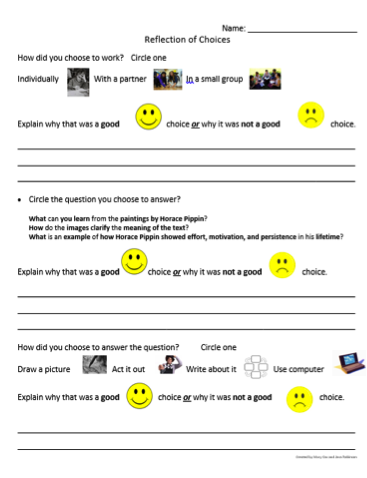 Learners differ in the ways they can be engaged or motivated to learn. Some learners are highly engaged by spontaneity and novelty, while other are disengaged or even frightened by such changes, preferring set routines. Some learners might like to work alone, while others prefer to work with their peers. Because there is not one means of engagement that will be optimal for all learners in all contexts, it is essential that accomplished teachers provide multiple options for engagement. The beauty of using the UDL framework for planning is that students will be allowed to make their own choices and become independent, self-directed learners who can reflect on their learning and figure out what works best for them. Students may be offered the choice of working alone or in a group, working at their desk, on the floor, or just outside the room etc., as well as choice of what format to use. In our project on the artist Horace Pippin, students were given a choice of questions they would like to address, all stemming from a central concept. They could then choose to work alone, with a partner or as group. Students chose the medium they wanted to use (draw a picture, act it out, write using graphic organizer and/or a paragraph, or computer programs such as Kidspiration, Pixie, or Power Point). Once the project was completed, students wrote up a reflection on all aspects of their performance; the goal was to  promote thinking about the choices they made this time, and how they might adjust next time.
Ultimately, UDL helps teachers better understand their students and assess their learning, while giving students more control over their learning experience.