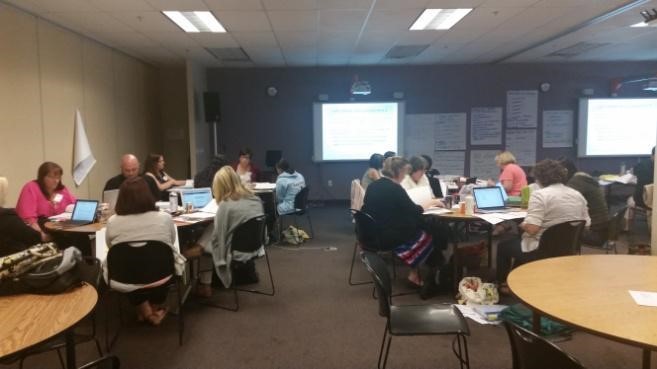 From July 2-7, 2016, approximately 10,000 delegates convened in Washington, DC at the National Education Association (NEA) Representative Assembly (RA) to advocate for legislation to promote academic and social justice for all students. Among those present were members of the NEA NBCT caucus. These NBCTs work diligently at the RA to do the necessary work, but they are not the only ones.  All around the country NBCTs are taking action by lobbying legislators, writing letters, reaching out to the community, educating all stakeholders, using data and statistics and other means to identify faults and propose improvements in education systems.
On May 31, 2016, in Montgomery County, Maryland, I was part of an event to open up communication among NBCTs and government officials. The three main questions discussed alongside some of the responses are as follows:
1. What do we want our schools to look like in 5-10 years?
●      Engaged students; no student slipping through the cracks
●      Authentic real world learning experiences/ Well rounded education for our students
●      Accessible technology for all
●      Serving everyone equally
2. What can the Montgomery County Education Association (MCEA) do in partnership to achieve this vision?
●      Help everyone to be open to change to have a sustainable system
●      Increase feedback/communication among/with practitioner
●      Be mentors to new teachers in the buildings (to promote teacher retention)
●      Making the public better aware of current classroom practices and conditions
3. How can the expertise and voices of National Board Certified Teachers be used to advocate effectively for this vision with community stakeholders and elected officials?
●      Everyone should be encouraged to be an advocate regardless of position
●      Have more events like this that bring teachers and politicians together
●      More NBCTs in teacher leader positions
●   NBCTs to design extracurricular/enrichment programs to be used at schools
In Montgomery County we were pleased to have so many elected officials sit with us, listen to our concerns, and give their pledge to take action. However, this is not the case in all parts of the country.  NBCTs of Nevada decided to take action by going another route and taking their plight to the NEA RA against a 2015 bill requiring that third-graders be held back starting in 2019, if they fail the state's reading test. These NBCTs researched the issue and learned about 13 states in this country that have a similar type of policy–with disastrous effects.   According to the federal agency, National Institute for Literacy, repeated research highlights third grade as a milestone year for students to achieve reading fluency. This is the point where students should transition from learning to read to using reading to learn. The argument for retention policies is that students heading into fourth grade risk falling further behind every year if they cannot yet read independently. Lawmakers in several other states and the District of Columbia are debating similar measures to retain 3rd graders based on reading achievement.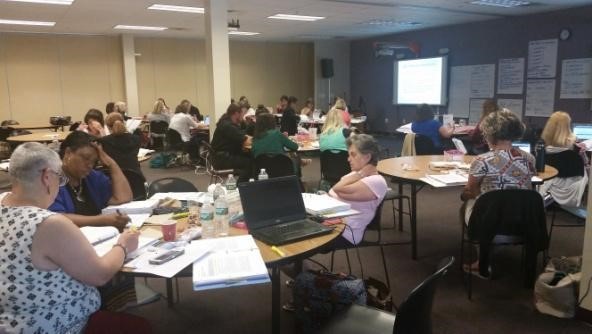 Conversely, critics say policies creating high-stakes tests for 8-year-olds are causing children to suffer. Retention rates are highest among traditionally disadvantaged minorities, who are most likely to suffer from low academic performance. Large numbers of English Language Learners (ELL) are also being retained. During my brief time as an educator in Rochester, New York, I personally saw the negative effects of retaining students. By the time these students reached me in fifth grade, they had a sense of hopelessness about them and had lost all desire to learn. Research shows that even if academic progress improves for these students, the stigma of their earlier retention follows the students into adulthood. Some states allow categories of good-cause exemptions from the no-pass, no-promotion rule: students with disabilities, students who aren't proficient in English and students who have already been retained twice. But this is not enough.  
Nevada NBCTs wanted this issue to be brought to the forefront. Therefore, at the NEA RA these NBCTs presented the New Business Item (NBI) 75 seeking support from delegates all over the country to inform educators everywhere regarding these discriminatory policies.  
NEW BUSINESS ITEM 75
NEA use existing resources to educate members about punitive policies mandating 3rd
grade retention on the basis of a single test score.
RATIONALE/BACKGROUND
State policies tying mandatory 3rd grade retention to a single reading test score, particularly in the absence of remediation, are punitive and discriminatory.  Teachers believe decisions regarding student retention should be based on the professional judgment of accomplished educators, plus input from stakeholders.
Submitted By: 50 Delegates
Contact: Elizabeth Campbell, Nevada
RELEVANT STRATEGIC GOAL (G) OR CORE FUNCTION (CF)
G-S Goals' Shared Tactics
CF-4 Communications
COST IMPLICATIONS
This NBI can be accomplished at an additional cost of $4,000
Delegates agreed that $4,000 is a small cost to address such an important issue and so they voted to support this NBI. But the fight doesn't stop here; it will be up to informed educators everywhere to take up the fight and support our students. NBCTs are leading the fight on this very important issue. Below are ways to stay connected with the NBCT caucus and get involved in helping to create change and equality for all our students.  
@NEANBCTCAUCUS