Editor's Note: This blog post has been reposted with permission from the author. See the original post here.
In the Fall of 2014, I hit a fork in the road. No longer a new teacher, with 4 years of teaching under my belt, I wanted to take the first step in becoming a lifelong learner. I looked into two options: working towards a Masters degree or obtaining National Board Certification. Both would allow me to obtain additional knowledge that would benefit me in my classroom, provide a pay increase, and require time, effort and hard work to be successful. But after attending an informational meeting held by our district and the Arizona K12 Center, I realized only one would allow me to reflect on my current practices, identify the strengths I already used on a daily basis in my classroom, and most importantly, truly grow as an educator. And with that, I began my journey to becoming an accomplished teacher by obtaining National Board Certification.
I have had the unique opportunity of being in the first group of "guinea pigs", teachers who have been completing the certification process under the new rollout. Rather than being a year long process cramming in four components, we have been completing the components as they have been rereleasing them, in a more user-friendly, attainable format. (Another post to come on that!). I have been appreciative for this as it has allowed me to truly reflect on my practices and make subtle changes within my classroom based off of these reflections and the standards for accomplished teaching within my field.
These standards outline what accomplished teaching looks like in all areas including literacy, mathematics, science, language, etc. in terms of Early Childhood Education, or ages 0-8. At first, that sounds scary but I quickly realized this was a valuable tool. Reading through them, I identified many things that I was already doing in my classroom. Incorporating play into instructional time? Check. Providing hands-on experiences with math concepts to solidify the learning? Check. Front loading target vocabulary for our English Language Learners? Check! Of course there were some things that I wasn't yet doing, but it was nice to have clear, specific examples of what I could do to become better and more effective within my classroom. An instant guide to growing as an educator!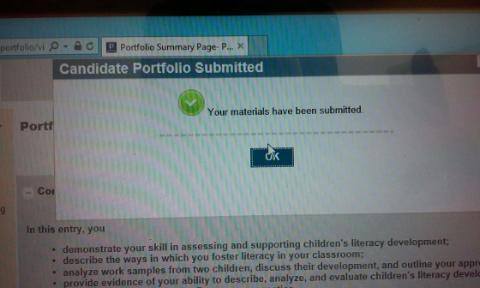 No better feeling than clicking submit after spending the year analyzing your practices and finding evidence to support your accomplished teaching!
Beyond the benefit of growth as an educator, pursuing NB  has also opened up avenues for teacher leadership and networking. Through the AZ K12 Center NB candidate events such as Coaching Saturdays, National Board Workshops and Institutes, I have had the distinct pleasure of meeting many other amazing educators who are doing outstanding things around the state of Arizona. Another common thread amongst these teachers aside from NB Candidacy? Positivity! All of these educators love their jobs and their students. There are several policies, regulations, mandates, etc. that we would love to change and may not necessarily like but at the end of the day, we love what we do and are seeking NB distinction to help build up the profession and show that Arizona has an artillery of teachers, hard at work behind the scenes, working to improve the lives of our students.
 
On that note, candidacy also lit the flame in me to make changes beyond just my classroom. Previous posts about the Parent Empowerment Project, Teach to Lead, Tea with Teachers, all of these things happened after my decision to pursue NB certification! As I reflect on my practices and work to better things within the four walls of my classroom, I also have started to identify areas that are passions of mine, things that I do well and can share with other educators to promote change on a bigger level.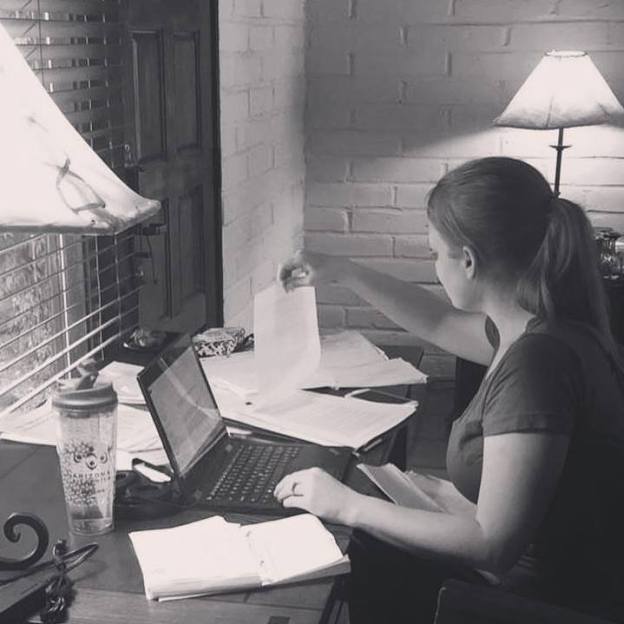 Reflecting on my practices at one of AZ K12 Center's many NB support events, NB Workshop in Tubac, AZ!
This process, that I entered as a quest to become an accomplished teacher has taught me that, in so many ways, I already was an accomplished teacher and it has provided a map towards becoming an even better educator in the future through ongoing reflection. National Board Certification is truly a rewarding process and I highly recommend it to educators out there who are looking for something more, either through growth or through confirmation. It is such an honor but it is also an opportunity for you to highlight the amazing things you do in your classroom and that is something the education field needs more of. Go for it and bring a friend with you!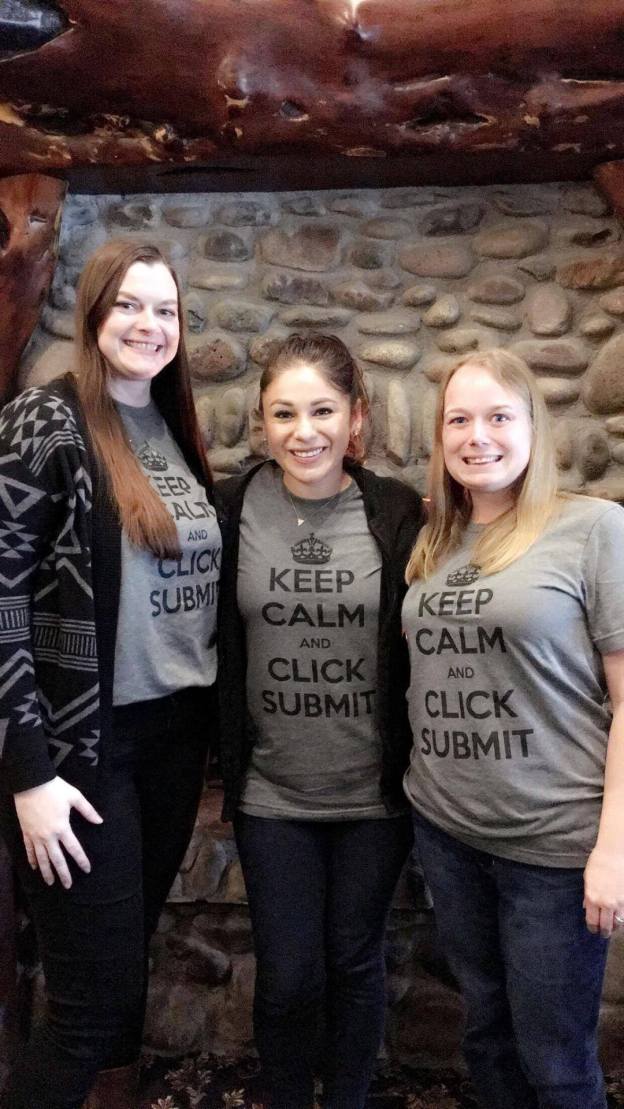 My colleagues and NB partners in crime!