This blog was originally posted at Common Core Connection USA.
---
From the minute the kids arrive, to the time you get home at night, we've got some Tiny Teaching Tips That Can Make a BIG Difference! Help your kids feel seen, from the moment they enter the classroom in the morning!
1. Use Photos and Binder Clips to Make Movable Pieces! These can be used as kids sign in (attendance), or even to select their lunch choices. They are also handy to show whether someone is in the restroom or for playing pieces for board games. Another thought. . . Personalize magnets, like Kadeen does, and use them to display center rotations. The possibilities are virtually endless!
Tips: If you don't have binder clips, send an email out to your fellow teachers to see if anyone has a box they can donate to you. There seem to be A LOT of these in school closets. Need photos? Ask parents to send one in. Then, just snap pictures of the kids who don't bring one.
2. Project Digital Images: Many of us now have a way to project digital images. Ask parents to email you a digital copy of a couple favorite pictures to share. In the morning, have one on display! Pop another picture up after lunch or as kids get ready for the buses. Better yet, create a slide show that can run during these transition times!
Note: Take pictures of those kids whose families don't send them in. (These may be the kids who most need help building a collection of photos!)
3. Help Kids Feel Seen in Math Class: When working with word problems, including students' names, along with their favorite topics. It can make the task so much more meaningful.
4. Have Some Pencil Top Erasers in Your Closet? I love how Karen Wasdin, from Laugh and Learn with Silly Sam, uses these for number line addition and subtraction!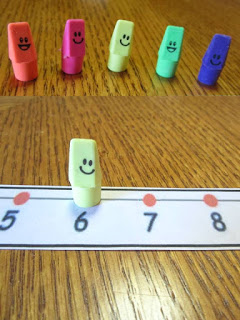 From Karen: I give these little smiley erasers to my students for Addition and Subtraction Number Line Jumping practice. They stand up and stay securely on each number spot as students record their answers. I use them throughout the year as a little gift or treat. Like in Valentine's Card!
Karen offers tips on Number Line Addition and Subtraction, as well as FREE Number Lines to 20 here!
5. Turn Flashcards into FUN Learning Tools!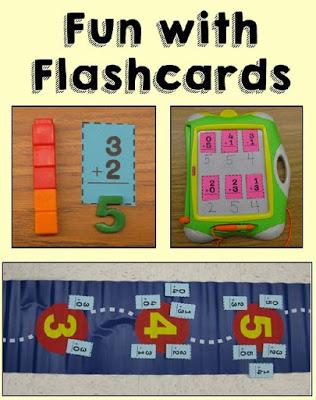 Flashcards sometimes get a bad rap. But, this blog post features simple and engaging ways for students to develop fluency with math facts while actively using flash cards.
6. Build Stamina for Writing! Working with clothespins is one of the best ways to help kids build fine motor skills and strengthen those little hands! (The Dollar Store usually has bags of 50 clothespins for $1!)
Use clothespins for building shapes. Get the free shape cards here.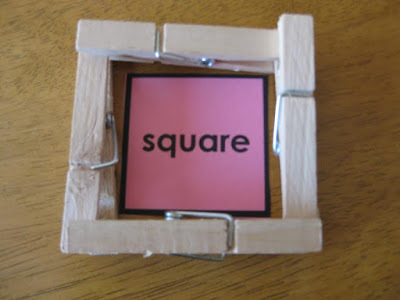 ---
---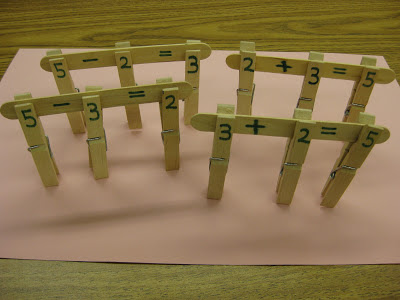 ---
---
Want to use clothespins for an ELA center? Write letters instead of numbers so kids can build sight words!
7. Who Doesn't Love a Scavenger Hunt? I really want my kids to "see" how word study connects to reading favorite books. Here's a simple way to help kids understand those connections.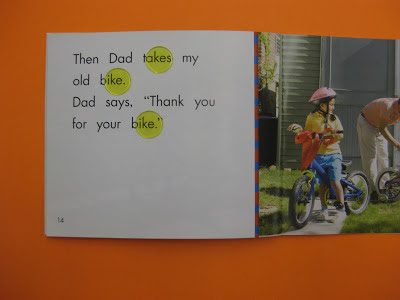 This girl went on a scavenger hunt to find words with a long vowel/silent e. Next, she read the page she had selected, stressing the highlighted words. Want to add in a little writing? Have kids list the words they find.
Tip: These bingo chips are helpful in SO many ways! They are like tiny little treasures. One boy was feeling intimidated on the playground and was nervous about approaching an adult (which made it worse). Bingo chips to the rescue! I gave him a red bingo chip to keep in his pocket. If he was having a problem, he could hand the bingo chip to one of the adults. Then, they'd know to step away with him, give him their full attention, and work through the issue together. Once he knew what to do, things didn't bother him so much!
8. Tattle Trash – A Tip from Kadeen: In a friend's classroom, I saw this little trash can. I thought it was the cutest thing ever. Instead of tattling to her about the more insignificant things throughout the day, students write the issue down on a piece of paper and throw it in the bin.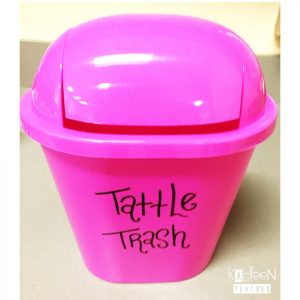 Make sure kids write their name on their paper, so when you look it over, you'll know who it is from.
9. Try Calming Music! From Kadeen: When it's getting a bit loud, I love to put on some calming music to get everyone's mind relaxed and settled. It could be the sound of raindrops or soft jazz music. Sometimes this makes kids a bit sleepy, but it's a great alternative to me continually telling the whole class we are getting louder. I use this even during small group time. It's so soft that it doesn't get distracting and kids have told me that it helps them focus and concentrate. (You can see more teaching tips at Kadeen's blog.)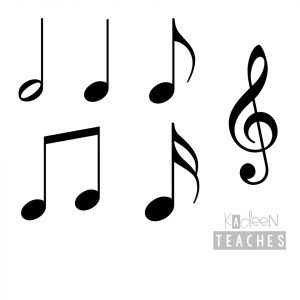 Speaking of calming music, I love this video – and it's a great review of 3D shapes! It features images of dancing people created from 3D blocks. Kids absolutely love to watch and chorally whisper the name of each shape as it appears while the people are being composed. Click here or on the picture to start the video.
---
Relaxing and Delightful Music!
---
For a quick brain break, kids can join in the calming dance movements of their favorite characters. Finally, the blocks are sorted by shape. We quickly point at each set and name the shape once again. So simple and relaxing. A great combination!
10. Communication Logs: A tip from Kadeen – Use communication logs in homework folders to keep track of your communication with parents. Parents send me quick little notes. I send them back quick little notes and reminders. Place a few sheets in each child's folder and get the communication started right away. You will have a trail of your communication with parents. You can get the log for free here.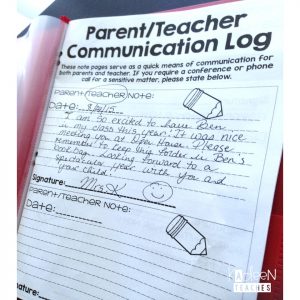 And A Parting Thought. . . When it's finally time to put your feet up, consider one of these Movies That Will Inspire Teachers. Pat, from Growing Grade By Grade, offers a list of 35 recommendations.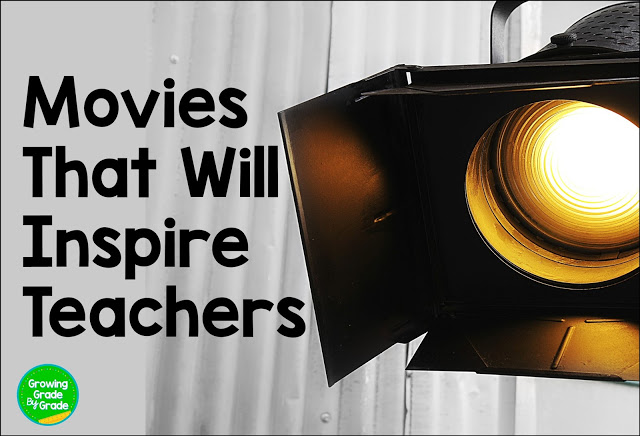 Here are just a few to get started:
Kindergarten Cop
Freedom Writers
The Miracle Worker
Now that's a task I could handle at night. . . If I could just stay awake!