By: Linda Yaron Weston, NBCT
The challenges of this time have magnified the need for including mental health tools within the student experience. As an educator who has taught both academic and well-being courses at the high school and college level, I have come to realize that including well-being supports alongside the academic curriculum is essential for students to fully thrive.
As part of our Diversity, Equity, Inclusion week at the University of Southern California, students who took my Introduction to Mindfulness course in the Department of Physical Education were invited to share their diverse stories and views on how learning mindfulness practices impacted their mental and emotional health and academic performance. I saw three notable takeaways and themes emerge:
Empowering self-awareness
"I've spent a lot of my life trying to shove myself into boxes that I don't really belong to," reflected Asher, a junior English major and transfer student. He was able to find freedom through building tools within himself to manage his self-care. "I'm not at the mercy of when I can get my next (therapy) appointment. I'm not at the mercy of anyone else. I feel like I get to have control over it in my life."
"Self-awareness is the biggest part of me being mentally healthy," reflected Kiali, a sophomore philosophy, politics, and law major. For her, this includes being in touch with her feelings, thoughts, and emotions. "This is something that I don't think a lot of people are taught to do…and that's where mindfulness comes in because you need to be in touch with yourself in order to succeed."
"Growing up as a Latino male, the concept of machismo and hypermasculinity played a major role in how I dealt with emotions. Usually that was with repressing them," Omar, a recent graduate and sociology major, reflected. "After the course I knew how to process my emotions better. It allowed me to move past the pain that I was carrying for so long."
Suzzy, a junior accounting major, came to see her identity as separate from her emotions. Rather than thinking of herself as an anxious person, she was able to reframe it as, "the anxiety at the moment due to the stressful situation isn't happening to me, but an event that's popping up and will go away." As she takes the mindfulness course this semester, she is working two jobs and has a full course load. "It puts things into perspective," she reflected. "How I face things in the world and what kind of portrayal I give to the world."
Academic performance and purpose
"It was very difficult for me to try and balance devoting my time to academics, but also trying to just survive in these systems that we face on a daily basis," reflected Luisa, a sophomore communications major. "Mindfulness provided the space for me to pause and collect myself and my thoughts in order to take care of my mental health in order to perform well in school."
"I realize that my academic success can be very reflective of what's going on internally and that in order for me to succeed to the best of my ability, I found that I need to really take time to care of my mental health," Kiali reflected. "I was really able to get to know myself and figure out what drives me, what I enjoy, and what I need, and so many other aspects of my identity."
"It helped me center my mind and take a step back and center myself during long days," Omar said of his mindfulness practice. He remarked that it helped him be able to complete his final semester of college, and had he known about the course earlier, he would have taken it every semester. "I was carrying so much on my plate for so many years and it let me feel like I can breathe again and be able to finish strong."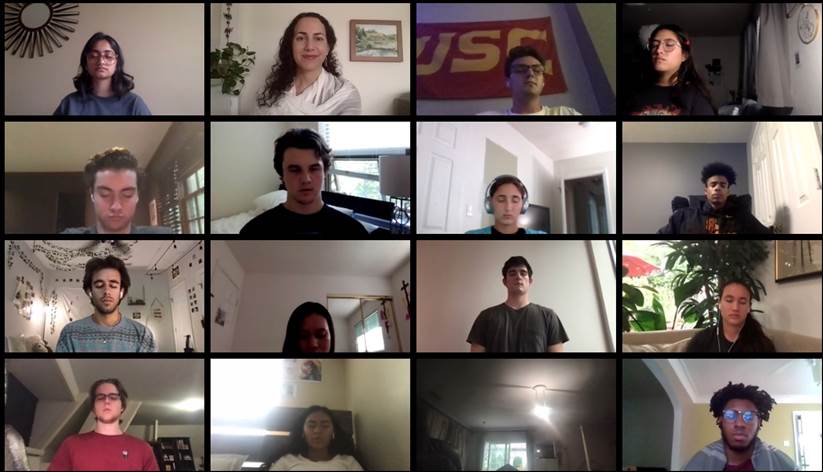 Particularly now, students are called on to face challenge after challenge in their personal and academic lives. How we prepare them to meet these challenges and intentionally structure well-being into the school experience can have a significant impact on their learning and life. Some ways to do this include integrating themes or practices within a course curriculum, offering well-being courses, or including a well-being general education component. With all that's going on, even the simplicity of pausing to come together and take a few breaths at the start of class can be useful— both for students and teachers.