By: Mirta Valdés-Bradner, NBCT
I am a World Language teacher at North Caroline High School, in a small rural county on Maryland's Eastern Shore. This past year I was recognized as one of only 23 state leads in the national Advanced Placement® (AP) Advocates Program.
Through the Advanced Placement® Advocates Program, AP teachers seek to expand AP accessibility and increase equity in AP programs. The AP Advocacy team believes in the value of AP courses and how access to these courses enables the students to be better prepared for college and careers. I believe, like our advocacy group, that students who succeed in AP courses are more likely to succeed in college, saving money and time by earning college credit with qualifying scores. Underrepresented populations usually do not take AP courses and the lack of funds to pay for the test is many times the reason for this.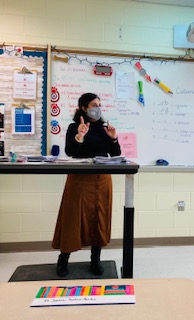 Some of the group's recent efforts include speaking with Senator Chris Van Hollen's team, meeting Delegate Jared Solomon, and speaking at the Maryland Assembly to advocate for AP exams to be paid for low-income families as well as on House Bill 1208 to advocate for a standardized acceptance of AP scores at Maryland state colleges.  As a result of our efforts, Maryland's Governor Hogan has allocated more than $2 million of the Elementary and Secondary School Emergency Relief state budget to help pay for AP exams. I was one of three AP Advocate teachers in the state of Maryland to be invited to present, in person, to Governor Hogan and Delegate Solomon with the Policy Maker Award for their efforts and support to this mission.
Covering the full cost or a portion of the exam fee impacts students' decisions. A recent College Board survey found that 58% of students would be more likely to take AP courses if the exam were paid for. This percentage increases to 65% for Black students and to 66% for Hispanic students.  Although it's yet to be seen, I can only imagine how this funding will affect participation among students.
Gaps in AP funding and awareness are preventing teachers and students alike from taking away the full benefits of AP courses. One benefit is completing the AP course and taking pride in test scores no matter if they meet or exceed expectations. The overstressing of high scores and the needless anxiety and failed sense of accomplishment when these scores are not met diminish the AP experience for teacher and student. An important change in AP culture should be that the finalized AP journey should be applauded to ensure students continue on with other AP classes and recommend this experience to other students. Making sure school districts provide teachers with the support and funding needed to prepare students for education beyond high school is crucial, as well as making sure every stakeholder is valued during the entire AP process whether they are scoring at the highest levels or not.
AP Advocacy is something that brings me to fight for our Maryland students, not just mine but for all in our state that need a voice to fight the good fight.