By: Magdalena Mata, NBCT
Texas is heating up its National Board status! Since 2019, with the establishment of the Texas National Board Coalition for Teaching (TXNBCT) Network, Texas has grown the number of candidates each year.  In 2019, the Texas legislature passed House Bill 3 that included the Texas Incentive Allotment (TIA) that earned National Board Certified teachers (NBCTs) a "Recognized" designation on their educator certificate and the opportunity to earn an additional stipend of $3,000-9,000.  Currently, there are 1,210 NBCTs in Texas and 1,520 Candidates in a state with more than 400,000 teachers.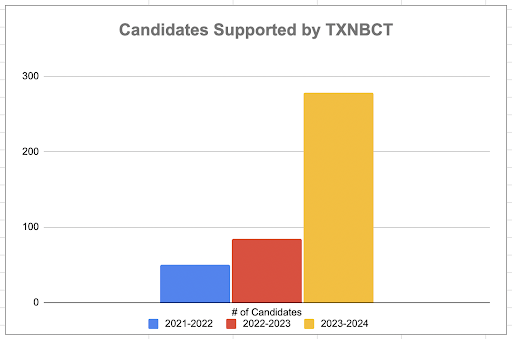 TXNBCT has been at the forefront of building awareness, advocacy, and building capacity through the facilitation of National Board candidates across the state.  In 2020, the Coalition was recognized by the National Board with a Candidate Support Network Award.
Specifically, the grass-roots work of the Texas Coalition has been built from each member of the Executive Board of Directors volunteering countless hours of their personal time (while teaching and leading) to write official Bylaws, build out an organizational chart, hold monthly meetings, provide space for virtual networking, create a website that includes membership access, write newsletters, develop and host nation-wide trainings/onboardings, plan and host virtual and in-person annual conferences, celebrate NBCTs with pinning Ceremonies, and advocate for legislation affecting NBCTs in Texas.
In the past 3 years, TXNBCT has built long-term partnerships with district and education service centers to lead National Board virtual and in-person cohorts across the state. 
There are two levels of candidate support which include a trained Professional Learning Facilitator (PLF) during their live cohorts and the NBCT mentors who provide real-time feedback and support to each candidate. This two-tiered approach has gained momentum while creating positive experiences for Texas teachers.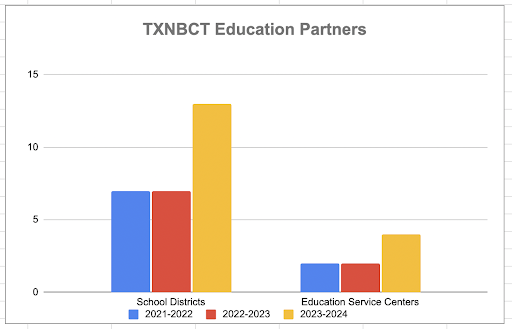 In the 2022-2023 submission cycle, NBCT mentors logged over 400 hours of support, and professional learning facilitators (PLFs) provided over 150 hours of cohort facilitation. The expertise, professionalism, and knowledge of National Board that each PLF and mentor provides to each Candidate in Texas has been so respected that in 2022 the Texas Education Agency (TEA) created a National Board cohort grant opportunity for the state and included TXNBCT as an external partner.  
Heading into the 2023-2024 school year, the Texas National Board Coalition for Teaching will have supported over 300+ candidates across the state and have engaged in contract partnerships with four education service centers, including rural and south Texas regions that serve underrepresented and high-needs students.  In 2019, the Coalition contracted with 7 school districts to lead NB cohorts, and in 2023 that number has increased to 11, which indicates the growing awareness of the National Board and the services and support provided by the Texas National Board Coalition for Teaching.
Join the Texas NBCT Accomplished Teaching movement and visit us January 27, 2024 in San Antonio, TX for our Annual Conference and Pinning Ceremony!  https://txnbct.wildapricot.org/