Headlines:
We apologize for the impact of the system change on you

We have extended deadlines to provide you flexibility

More resources are coming soon
Over the past several weeks, we have worked through a transition to our new registration and candidate system. That system change generated unanticipated challenges, many questions from educators, and long wait-times when contacting Customer Support. We have heard from many of you that this has added unexpected stress, especially in a challenging year. We apologize and we are making changes to meet your needs.
We are extending deadlines for candidates planning to purchase and/or submit components this spring (including Maintenance of Certification). These extensions apply to the 2020-21 school year (and they do not impact deadlines for the 2021-22 school year). These changes will allow you to engage in the National Board process as seamlessly as possible. We have added capacity to our Customer Support team and stand ready to address any questions you may have.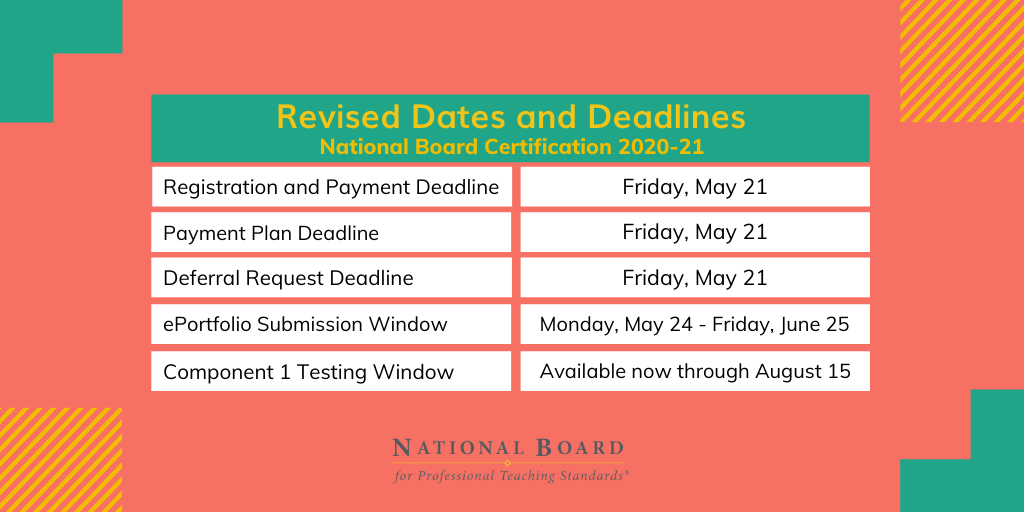 *Starting on May 1, candidates pursuing Board certification will be able to schedule (or reschedule) for dates after July 15; we will email you on May 1 with detailed instructions. 
Finally, we know many of you are beginning to prepare for ePortfolio submission. Over the next few weeks, before the submission window opens, we will provide additional details on ePortfolio submission for candidates who are engaging in Components 2, 3 and 4.