National Board Partners with Mississippi Department of Education to Boost Early Literacy Instruction for Mississippi's K-3 Students
ARLINGTON, VA —  The National Board for Professional Teaching Standards, with the support of a $2.4-million grant from the W.K. Kellogg Foundation (WKKF), will work to strengthen literacy instruction and outcomes for students across Mississippi in the critical early elementary years. In partnership with the Mississippi Department of Education, National Board Certified Teachers will work directly with students in their classrooms, as well as with other teachers in their schools and districts, to transform literacy teaching for K-3 students across the state. Over the course of the three-year grant, the work aims to benefit up to 30,000 children in Mississippi through summer learning as well as in their regular classrooms during the school year.
"The National Board is grateful to have the opportunity to work with partners across the state of Mississippi who are committed to ensuring that all children can read at grade level," said Ronald Thorpe, president and CEO of the National Board. "Board-certified teachers have the proven skills to not only help children master core concepts, but instill a love of learning and the habits of mind that are so important for their continued success and for Mississippi's future."
Nearly 50 percent of third-graders in Mississippi are reading below grade level. The WKKF support comes as Mississippi is preparing to implement the Third Grade Gate, a policy that requires third graders to meet minimum literacy benchmarks before being promoted to fourth grade.
"We know that children must be able to read in order to succeed, and we know that highly-qualified teachers have a positive effect on student achievement," Gov. Phil Bryant said. "Mississippi teachers work hard to foster learning among their students, and we are proud of their efforts. This grant from the Kellogg Foundation will enable the National Board for Professional Teaching Standards to play an important role in developing literacy skills in Mississippi's K-3 classrooms."
A growing body of research has shown that the students of Board-certified teachers learn more than students in other classrooms. The state ranks 7th in the nation with 3,740 Board-certified teachers, or 10 percent of its teaching workforce, and aims to boost that number by 25 percent by 2018. As an incentive for them to pursue this mark of professional accomplishment, Mississippi teachers who achieve Board certification receive a $6,000 annual salary stipend.
"The Kellogg Foundation is committed to improving the quality of both teaching and learning to help children achieve academic success.  Supporting initiatives, like those led by the National Board of Professional Teaching Standards, will equip educators with the training they need to deliver high-quality learning opportunities for all students," said La June Montgomery Tabron, WKKF president and CEO. "Effective educators can have a significant and lasting impact on students' educational success, and we hope this partnership with the National Board will help to improve literacy rates among nearly 30,000 Mississippi children."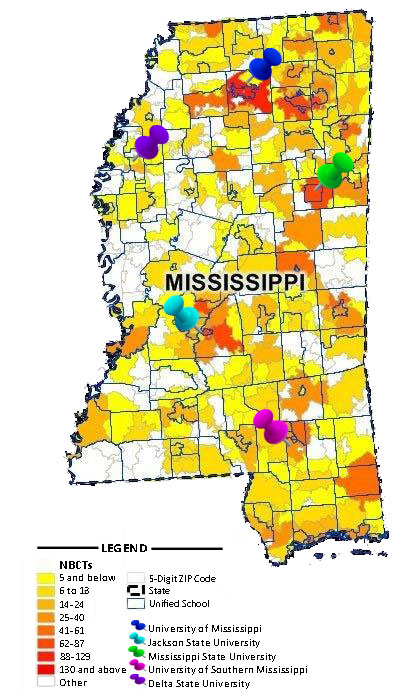 Mississippi is a leader in supporting accomplished teaching, funding the World Class Teaching Program (WCTP) at university campuses across the state to recruit teachers and support them through the Board certification process.
"In addition to the children, K-3 teachers across Mississippi will reap the benefits of this investment for years, "said Tammy Kirkland, a Board-certified teacher and the director of the World Class Teaching Program at the University of Mississippi.  "Through the support of their Board-certified colleagues and through their engagement with best practices in literacy education, they will strengthen their own teaching, and hopefully consider Board certification for themselves."
Last year, the National Board received a three-year, $1.5 million grant from the Kellogg Foundation to build the accomplished teaching workforce in six states, including Alabama, Arkansas, Arizona, North Carolina, South Carolina, and Virginia. That initiative seeks to put all early education teachers in the target states on a path to Board certification, beginning in pre-service teacher preparation. Similar to the residency model for doctors, novice teachers would learn and hone their practice under accomplished, Board-certified teachers. Those who achieve Board certification would take up teacher leadership roles, enabling them to influence instruction and school culture beyond their classrooms.
National Board Certification is a rigorous, performance-based, peer-review process similar to Board certification in medicine, and numerous studies have shown that that the students of Board-certified teachers outperform their peers in other classrooms. To date, more than 110,000 teachers have achieved Board certification, including nearly 44,000 are who are certified as early or middle childhood generalists or literacy specialists. Teachers who have achieved Board certification in early childhood areas have demonstrated content knowledge as well as the ability to provide age-appropriate instruction to each student and to integrate math, science and literacy.
# # #
The W.K. Kellogg Foundation (WKKF), founded in 1930 as an independent, private foundation by breakfast cereal pioneer, Will Keith Kellogg, is among the largest philanthropic foundations in the United States. Guided by the belief that all children should have an equal opportunity to thrive, WKKF works with communities to create conditions for vulnerable children so they can realize their full potential in school, work and life. The Kellogg Foundation is based in Battle Creek, Mich., and works throughout the United States and internationally, as well as with sovereign tribes. Special emphasis is paid to priority places where there are high concentrations of poverty and where children face significant barriers to success. WKKF priority places in the U.S. are in Michigan, Mississippi, New Mexico and New Orleans; and internationally, are in Mexico and Haiti. For more information, visit www.wkkf.org.