The Saturday [March 12] morning plenary session at the National Board's Teaching and Learning Conference offered a powerful conversation about race and education. While I'm sure it benefitted everyone in attendance, I found it particularly powerful because it shows some continuity in focus from the National Board. Last year's conference featured a similar panel discussion on cultural competency. During the summer academy in Scottsdale, National Board helped network leaders from around the country go deeper into those conversations. David Johns reprised his role as moderator extraordinaire, keeping the conversation balanced and well-paced, and engaging a large audience effectively as well. The panel featured educators, Linda Darling-Hammond, Jose Vilson, Renee Moore, Ali Michael, and students, Marley Dias and Maria Salmon.
Johns emphasized the value – the necessity – of having students featured in the conversations about education, and began the session with questions for both students on the panel. Dias has made a splash on the national stage with her #1000BlackGirlBooks campaign, advocating for the use and elevation of more diverse literature after a steady diet of school readings about "white boys and their dogs." She deftly jumped into the conversation later to emphasize the importance of thinking not about "the black experience," but rather, "experiences." Salmon leads a minority scholars program in her high school, and spoke about the complexity of cultural identity, citing her own multi-ethnic background as a source of strength. Later she mentioned how her parents have encouraged her to see differences as something interesting and valuable, something to seek rather than shun.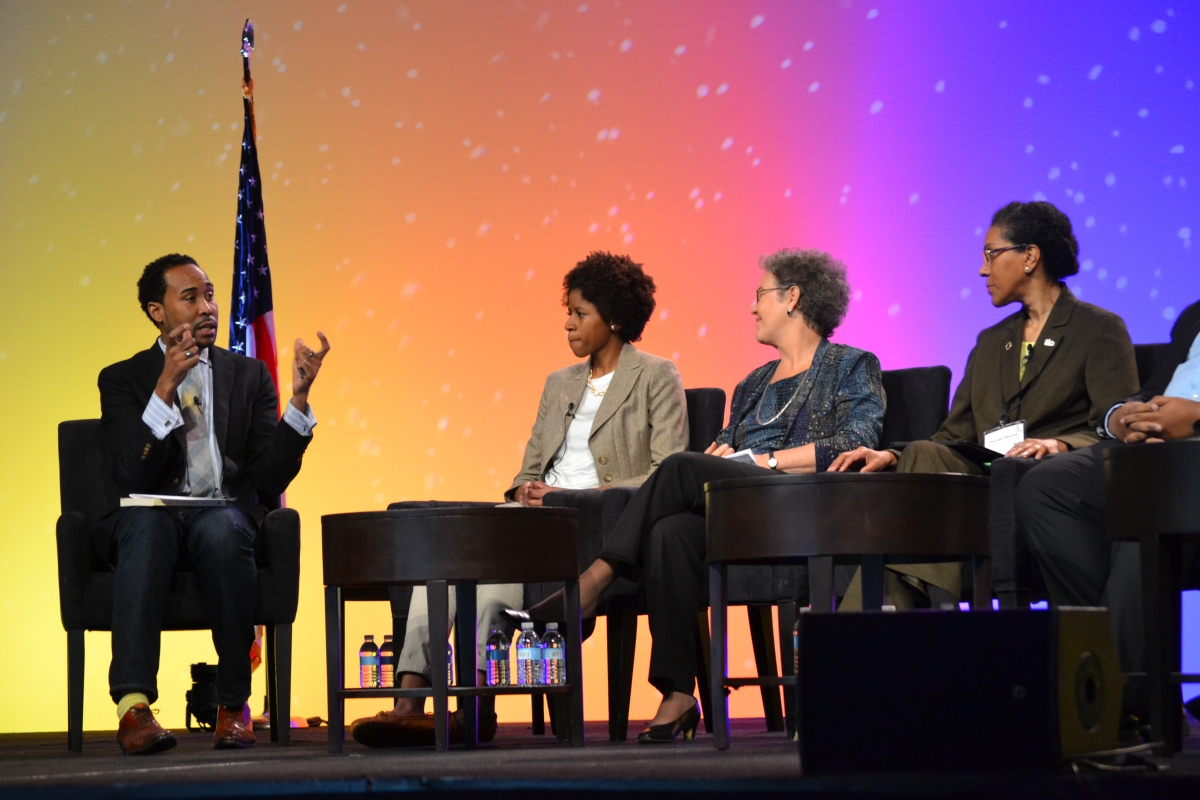 Linda Darling-Hammond provided a more academic and scholarly frame for addressing cultural competence. She addressed the intentional design of a teacher education program that has equity and social justice foremost among its guiding principles. Teaching candidates at Stanford Teacher Education Program receive explicit teaching around these issues from the moment they begin their studies. They are placed in schools that are functional and addressing these issues, and have a full-year experience with mentor teachers who can show how it's done in the classroom.
Michael talked about the challenge of developing cultural competence and understanding of race when, early in life, white children (she cited her own experience) receive mixed messages: on one hand we're told everyone is the same inside, everyone is equal, and then society shows us all the ways that some people are better than others, some are to be celebrated, some feared. Her work serves to help educators understand and discuss race more productively in schools and among ourselves.
Renee Moore focused on the Teacher Leadership Initiative, a joint effort involving the National Educators Association, Center for Teaching Quality, and National Board. The project aims to develop teacher leaders who are culturally competent. Too many teachers in the Mississippi Delta are unprepared, unskilled, but they can learn. We want to find teacher leaders, train them. The false notion of color-blindness is not just about teacher to student, but also within the profession. Teachers of color have been marginalized. To drive change, Moore said we can start by looking at the standards that guide National Board Certification. Every certificate area addresses equity, diversity, and social justice. Those standards can help people understand and improve practice. We also need to elevate the voices of our teachers of color. Seek them out, listen to them, value them. Moore suggested that we must change the conversations to change the profession, then we'll do a better job teaching children.
Johns pushed for more specifics: how do we know what a culturally competent classroom looks like? At this point, an essential theme of the morning came through clearly, as Moore made it sound fairly simple: you get to know your students and community. You know your subject and how to teach it to those specific students. Moore cited the importance of mentorship early in her career, specifically the mentorship of African-American teachers. Revisiting an idea Dias had raised earlier, Moore said that being a black teacher didn't mean she was ready from day one to work with her students. Coming from Detroit, Moore had to learn about students from the Mississippi Delta. It's not the same. Context matters.
Johns pulled out another thread in the conversation, citing the idea of community before turning the conversation to #educolor – a community of educators building a movement for equity and liberation through activism, particularly in the sphere of education. Vilson offered some background: "We have a problem: how do we start critical conversations about race, class, and gender in classrooms?" Some people think those conversations are too risky, too difficult. Educolor said, "this is how you do it" – by providing resources and readings around current events and real experiences. Building competence in these areas is work for everyone to do, as some of the troubling examples of violence and inequity happen in spaces where we have teachers and principals of color too.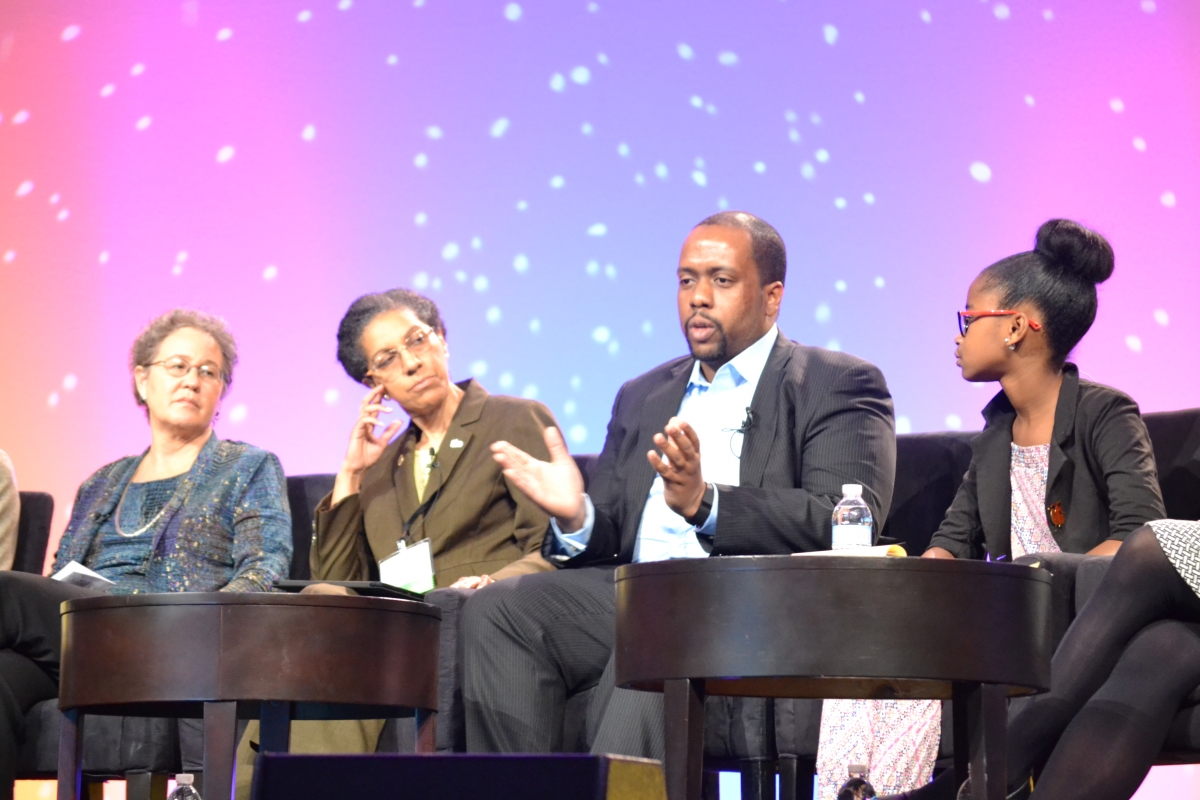 Asked for a short, Tweet-length piece of advice about how to make progress in this work, Vilson said, "Decenter yourself, and center the children." Asked later about role models for African-American males, Vilson suggested that young men may have role models that they don't speak about, and that teachers can draw out their students if they can manage to "just be cool." Again, the idea of listening, creating safe spaces came through. It's not a radical new pedagogy, but rather, a way of approaching our relationships with students that opens doors to important conversations and new learning.
There were several questions about improving the cultural competence of schools and our profession by improving our recruitment of teachers of color. Moore suggested that recruitment will be easier and more effective if we start by treating teachers of color with respect. She cited a variety of ways in which education systems have marginalized teachers of color, or pushed them out entirely. Few people looking from the outside in will want to be part of that.
In the question and answer portion of the event, there were many more specific concerns, but the answers shared common threads and themes from the whole morning. I emerged from the plenary optimistic that the work of improving education equity and cultural competence has no barriers we can't address. It comes down to some basic ideas: knowing, respecting, valuing, elevating different people and perspectives.
David Johns reduced it to a few basic points. Meet students with love. Listen to them. Be there for them. "Sometimes we overcomplicate things."
Johns pointedly ended the panel discussion by turning again to the students, asking them why and how they're brilliant. Salmon talked about coming to the U.S. for a reason, for opportunity, and sounded confident and determined that she's on the path already, taking advantage of her opportunities. Dias said the key is that she knows who she is and why she's special, but she also knows not to take that idea too far in relating to others. "I can change the world," she said, "but so can everyone else."